Sierra
Our story began in 2006 and lasted a span of 10 years, making this a three-part story. Sierra, our oldest of 5 children, was born near her due date in September, perfectly healthy. She played T-ball and loved to dance. The end of her kindergarten year, she started complaining of stomach aches and would randomly throw up. She had little energy and could hardly walk up the stairs to her room each day.
May 1, 2006, she was diagnosed with dilated cardiomyopathy. I remember being in a fog and life just suddenly slowed down. So many questions: What is cardiomyopathy? Can it be cured with medication? What does this mean for Sierra?
We live in a small rural community in Oregon and were told that Sierra must be taken to Stanford, California to a transplant center. We had no idea what a transplant meant, how it worked, or how far Sierra would deteriorate until transplant? Or, even where Stanford was? Our lives had turned upside down.
At the time I was pregnant with my fourth child which meant that I needed to find prenatal care in California. They sent Sierra by life flight to California and I was able to fly with her. My husband arrived the next day by commercial flight. I remember when we got to Stanford; I had never been so scared and alone in my life. We didn't know anyone, Sierra was getting worse. Her stomach was hurting more, she couldn't hold anything down and she couldn't walk very far without getting winded.
Our social worker introduced us to a group that met once a month at the hospital and talked about their experiences with heart transplants. It was so helpful to hear the success stories and to know that their symptoms were just like Sierra's. They were healthy and happy and looked
normal. As we stayed at the Ronald McDonald House and met more families in our similar situation we became supports for each other. We built life-long friendships that are still helpful for us today.
Sierra had been on the transplant list for 3 weeks and she was to the point where she had to be placed on a ventilator, as her body could no longer do all the work for her. The doctor had talked to us about putting her on a Berlin Heart, a machine that would help her heart pump. At the time, the machine was in Europe and would take 5 days to get to California. We ordered the machine, but knew Sierra would not make the 5 days.
Miraculously, a heart became available for her August 3, 2006; Sierra received a heart and did not have to go on the Berlin.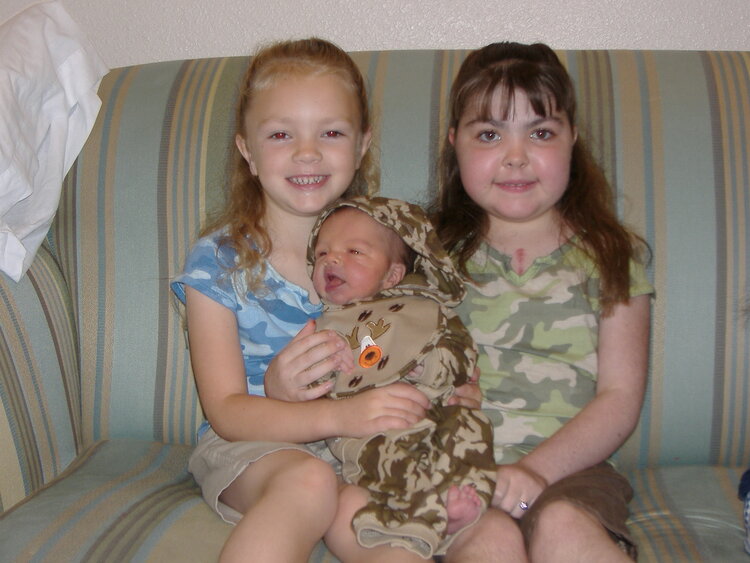 Sierra started the road to recovery and was able to get out of the hospital 3 weeks after her transplant. Unfortunately, she had only been out for 3 days when she experienced a seizure from high blood pressure and had to be readmitted. After that little bump, the rest of her recovery went smoothly and she was able to come into the hospital to meet her brand new brother when he was born.
My husband and I decided when we got settled in California to bring our other two children with us. As hard as it was some days to have a five-year-old and two-year-old there, they were the best distraction for Sierra. Having our whole family in Stanford together, helped us support each other and brought us closer. The younger girls could see and understand, to the best of their little minds, what Sierra was going through. They were able to be there to see their new brother after he was born. They also helped Sierra with her physical therapy and lots of walking.
When we were able to return home 3 months after Sierra's transplant, it was an accomplishment for everyone. It was the end to a trial for all of us. We never regretted our decision to go through it as a family.
Stacy, mom of Sierra